Building a deck? Consider using the CAMO system.
CAMO Edge Deck Screws are insta
lled through the edge of the board—not on the surface—and are secured directly to the joist which reduces board movement.  Edge ProTech Coated Deck Screws can be used on treated lumber, composite, capped composite, and PVC decking. Two T15 Star drive bits included with each box of screws.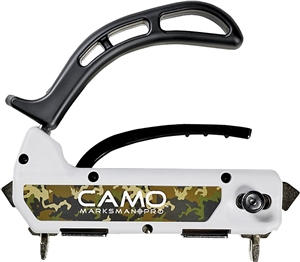 The CAMO Tool is a heavy-duty contractor-grade tool. This tool easily adjusts to fit your deckboards and clamps securely to the deckboard.  It also provides automatic 3/16″ spacing between boards and has dual screw guides that enable both sides of the board to be fastened to the joist with single tool placement.
When the CAMO Edge Screws and CAMO Tool are used together, you will have a beautifuly installed deck.
CAMO EdgeClip Hidden Fasteners are ideal to use when you have a composite deck board that has grooves in the side and you want hide the fasteners. The CAMO EdgeClip will fit over the joist, the provide automatic spacing between boards with the dual sided spacing guide on the clip. This is a great way to get a professionally installed deck look.
For more information, go to:  https://www.camofasteners.com/products/clips/edge-clips/
Call 918-627-1926 for prices and availability.